Twitter Manners [Infographic]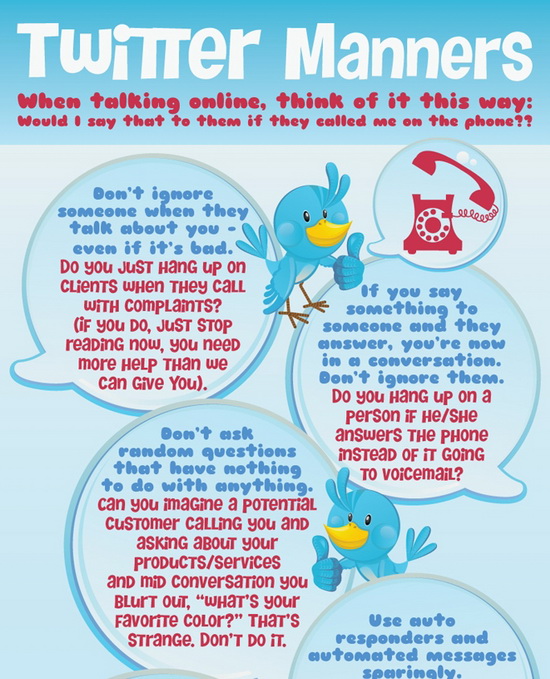 Most of us have taken to utilising common courtesy when it comes to Twitter etiquette, while others feel there are many unwritten laws. This post is just some thoughts of mine that I hope helps you in your journey of this platform. Please add your examples in the comments…..
Use your profile to tell people who you are, what makes you tick and add an image of you, never something else. Before you start Tweeting let people know who they're listening to. When someone discovers your carefully written and deeply valuable first Tweets, they're going to come to our profile to learn more and decide if they want to follow you. If you've got the default icon and no info they may wait until later. Except there is no later. They'll forget you.
Choose who you follow carefully. Look for the value add to your life, both from a personal aspect and business synergies. This is about building relationships that will in time, I promise,  bear fruit.
Do not feel that you have to follow everyone following you. As I mentioned above its about value and relationships. Take time to understand who they are and if they fit into your goals. It will take time to un-follow, if they do not. In this scenario I utilise lists, thereby screening a persons content before being added in my main stream, this may work for you too.
Only direct message when absolutely necessary, do not DM someone saying "Thanks for the follow, check out this whitepaper". When this happens to me they loose me as a follower immediately. If you really do have a fantastic white paper tell me in public and I just might re-tweet the link.
It's not about you, you, you! Share your Tweets about people you admire (If you don't have any find some. ) Send out links to blogs, web sites or Tweets from people that are just as smart as you. Better yet, even smarter.
Don't keep all the good stuff you find to yourself. Add value. Share information through links. Add a very short and clear description so we know what to expect when we get there. When you write a Tweet make sure there is room for it to get re-tweeted. That means leave at least 20-40 characters at the end so when someone re-tweets it to their network they don't have to shorten your Tweet.
Say please and thank you. Always thank people for re-tweeting or mentioning you. It doesn't have to be a reply, it can be a direct message or even an e-mail or a phone call. Let them know you appreciate their time and sharing your Tweet with their network.
Give credit to the source. If you have found a great article find the author on Twitter and say something like "Awesome post from @chrisbrogan. Same thing with re-tweets. Give the Tweeter credit, either say RT @markwschaefer and then quote the tweet verbatim, I for instance choose to get the information to the reader quicker and take to adding "via @markwschaefer" at the end of the Tweet.
Be personal, but remember you're in public. Don't say things you'll regret and never in the heat of the moment.
Be transparent. If your Twitter persona is for a corporation or your looking for a job, let people know either in your profile or by your tweets. The more open you are about who you are and why you're on Twitter the better.
Be open minded. When you create your new Twitter network of pals think out of the box. Listen carefully for people talking about things that interest you in other niches. If you only talk about one subject with people they get bored with you. Branch out. Talk about your hobbies and follow people doing things you always wanted to do. Someday you might get the opportunity to do something through one of your new buddies.
What other hints and tips do you have to share with the world.