LinkedIn Profile Blueprint – Your Digital Brand in the Social Landscape
How to start building the perfect LinkedIn Profile: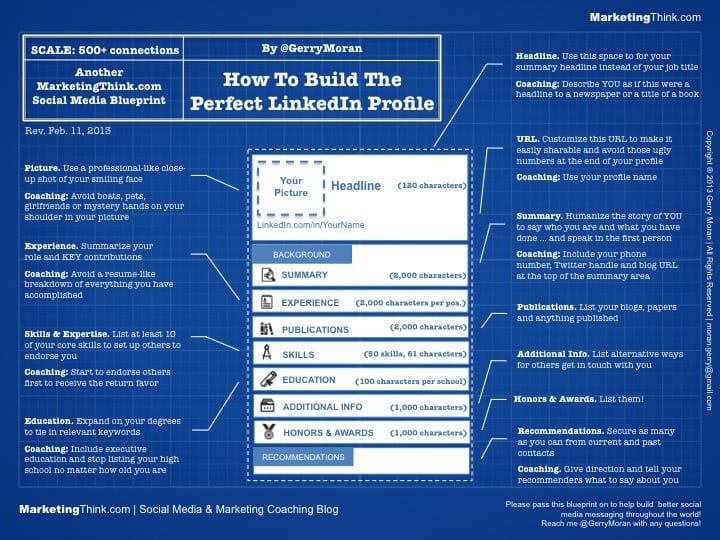 2013 LinkedIn Profile Character Limits
Knowing the space with which you can work in your LinkedIn profile is key to helping you build your perfect social brand! Here are your character limits:
Headline – 120 characters to fill with keywords, answer the question, "What do you do and the outcome you will provide?"
Summary – 2,000  characters to tell the story or YOU with keywords and  accomplishments. How have you helped others and their results they achieved from you.
Experience/Position Title – 100 characters to sum up your official experience in a title, or something more creative with keywords
Experience/Position Description – 2,000 characters to use keywords to sum up your role and your one to three key accomplishments. Make sure to format this area to make sure it is easy to read!
Skills & Expertise – 61 characters for the 50 skills you can list
Status updates – 700 characters for an unlimited times per day, however, I recommend only one or two per day. And you can include a hyperlink if you need more room!
Groups – 50 groups is your limit, so pick them wisely to show others with whom you are keeping company!
Education/Degree – 100 characters to explain your degree to include relevant keyword phrases
Education/Activities & Societies – 500 characters to give an overview that can tie into your career
Education Description – 1,000 characters to offer an overview of what you studied and how it is relevant to your career
Additional Info/Interests – 1,000 characters to further explain your background and show how interesting you really are!
Honors & Awards – 1,000 characters to shine the spotlight on YOU! Even if you won a sales award, it's a great accomplishment to list!
Videos and Content – You are now able to add videos or other content such as pdf's or powerpoints under several sections – Summary, Experience and Education. So get adding! As for your profile picture, if you want to manifest professionalism, you can utilize the help of photographers, like the Corporate Photographers in London.
I would love to know if you have a tip or trick with the way you use LinkedIn! If you do, please comment. You can also follow me on Twitter @Social_Ben
Credit for content: MarketingThink.Com