The Big Apple (Infographic)
Its been many years since my first experience. The excitement the family had in casting off the packaging on our shiney new ZX81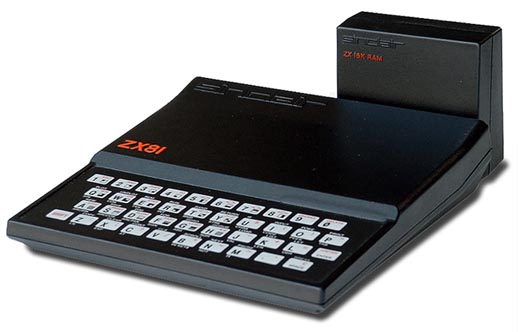 With its, now laughable, 1k(64k max) of RAM, it was our first step into the digital age!
Over the coming  years we moved to the Spectrum 48, with great games such as Manic Miner and Jet Set Willy (you had to be there, I suppose!)
The ZX81 sold 20,000 units in just 9 months and 100,000 units in eighteen months. The Spectrum range was among the first mainstream audience home computers in the UK, similar in significance to the Commodore 64 in the USA. The introduction of the ZX Spectrum led to a boom in companies producing software and hardware for the machine,the effects of which are still seen today.
We then cycled through various manufacturers like BBC, Commodore and then main stream manufacturers that still exist today.
Now I am Apple infused, Mac's, iPad's, iPods, iPhones I am an apple fan. Why? They are all connected and provide a seamless experince between devices. They are also cool and great looking!
Apple is annually selling almost as many devices (including computers, iPads and iPhones) as cars worldwide. Unsurprisingly, they are also one of the most successful businesses in the world.
But how do Apple's eye-popping statistics translate to the real world?
The sum of their total sales in 2011 was an incredible $128 billion. To put it in perspective, their 2011 sales amounted to more than the GDP of 160 nations worldwide.
Apple's current market capitalization is $508 billion making it the largest company in the world.
Apple's release of its latest iPad was massive: the company sold 3 million devices in the first 72 hours of release.
695 iPads are sold every minute. 11 iPads are sold every second.
Apple projects to sell 56.4 million iPads in 2012. Laid end-to-end those iPads would stretch from Cupertino, California to New York City and back and nearly halfway back to the Big Apple.
Since 2008, almost as many devices with Apple's IOS operating system were sold as cars worldwide. Does that mean that in today's world we consider Apple products as important as vehicles?
While the iPad has been a huge success, the iPhone is still Apple's franchise player selling over 72 million devices in 2011. That's nearly equal to the weight of the Eiffel Tower.
40% of Apple's revenue is credited to the iPhone alone.
For more information on Apple's sales and growth refer to the infographic below. [Via]